Introduction
Welcome to Last week on OpenStack Dev ("Lwood") for the week just past. For more background on Lwood, please refer here.
Basic Stats for week 28 March to 3 April 2016:
~698 Messages (up about 9% relative to week of 21-27 March)
~237 Unique threads (up about 15% relative to week of 21-27 March)
There was no Lwood for the period 21 March to 27 March  – I had a rotten cold/flu that put me out of action for pretty much the whole week.  By the time I felt vaguely well enough to read list traffic the moment seemed to have well and truly passed for the summary.  I've tried to at least capture the People and Projects related traffic from the "lost" week however and presented that in this edition.  Apologies for any inconvenience caused by the absence of last weeks' edition and the late arrival of this one!
Notable Discussions
Not so much Swagger after all ?
Anne Gentle writes that plans to move to Swagger for API reference information is being reviewed in light of discovering it doesn't match OpenStack's current API designs as well as was first thought.  There are well advanced plans on where to go fro here – more specifics in Anne's email.
Neutron being renamed ?
Jimmy Akin penned a timely warning for all that there are some issues with the Neutron name infringing on certain trademarks.  The ever efficient OpenStack community were quick to suggest alternatives, one of my favourites was the idea of using an alternative alphabet – hence it could become "Нетронь" or even "ניוטרון"
Seriously, if you want to see OpenStack collaboration at it's finest, it doesn't get much better than this thread.  Curiously though the conversation came to an abrupt halt around midday on April 1st.
Upcoming OpenStack Events
Unless I missed it there didn't seem to be any new events mentioned on the list these last two weeks.  There is of course the summit in Austin later this month. Don't forget the OpenStack Foundation's comprehensive Events Page for a comprehensive list though!
People and Projects
Core nominations & changes
It wasn't all PTLs and TCs these last couple of weeks…
TC Elections
As Tony Breeds noted here the period for submitting Candidate Proposals for election to the Technical Council kicked off on March 25, 00:00 UTC and remained open until April 1, 00:00 UTC.  Tristan Cacqueray formally noted the election open shortly thereafter – it will conclude later this week (April 7, 23:59 UTC) – that's varying degrees of Thursday or Friday depending on where you are!
Of the outgoing TC members, Robert Collins, Jay Pipes and Mark McClain noted they would not be seeking re-election though thankfully all three intend to remain involved with OpenStack!
There are nineteen candidates in total vying for seven open positions on the TC.  They're a well rounded and capable bunch so it's likely to be a close election – we'll know next week of course…
In alphabetical order they are; Anita Kuno (anteya), Carol Barrett (carolbarrett), Chris Dent (cdent), Davanum Srinivas (dims), David Lyle (david-lyle), Dean Troyer (dtroyer), Ed Leafe (edleafe), Flavio Percoco (flaper87), Gal Sagie (gsagie), Gordon Chung (gordc), Ildiko Vancsa (ildikov), John Garbutt (johnthetubaguy), Julien Danjou (jd__), Matthew Treinish (mtreinish), Mike Perez (thingee), Morgan Fainberg (morgan), Shamail Tahir (Shamail), Steven Dake (sdake) and Thierry Carrez (ttx).
Per Tristan's email if you're eligible to vote you should have already received an email with a link to do so.  Please exercise your OpenStack democratic right :)
PTL Election Results
The PTL Elections concluded last week, Tristan Cacqueray provided the good oil in his note here.
There are now 48 PTLs, up from 42 in the October 2015 Election – this a result of some new projects and the creation of the Stable Branch Maintenance role.  Three of the PTL roles were decided by the TC as no one came forward for the role – excellent folk were found though :)
A little spreadsheet munging yielded a few more stats and a couple of graphs as shown below.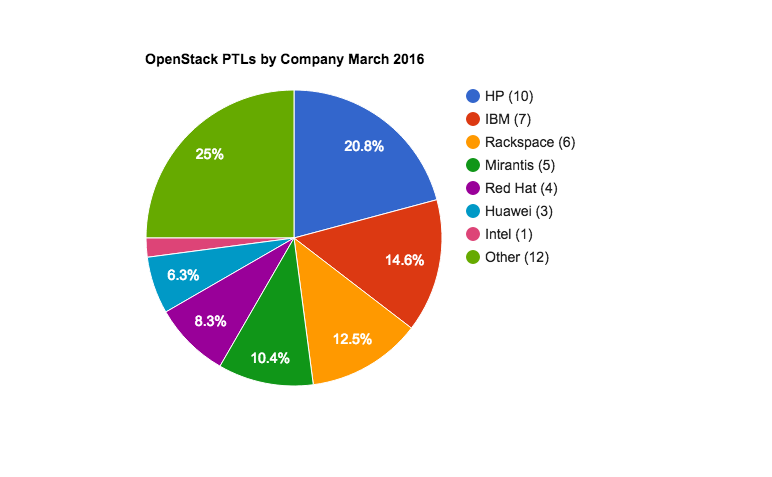 Further Reading & Miscellanea
Don't forget these excellent sources of OpenStack news
Again my apologies for the absence of Lwood last week and the late arrival of this one.  Normal service will be resumed next week :)
This edition of Lwood brought to you by Burning For Buddy – A Tribute to the Music of Buddy Rich, Choirboys (Choirboys) and The Cult (Pure Cult) amongst other tunes.