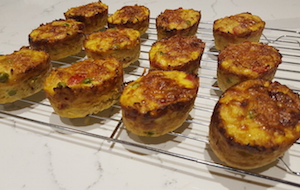 I'll be the first to admit I never thought I'd see the day when I'd type something like "Gluten Free Savoury Friands" as a blog entry, but there you go :)
A dear friend of mine put me onto the idea of using "cauliflower rice" as a substitute for regular wheat flour in certain recipes.  The basic idea is you grab a cauliflower, remove leaves then use a food processor to blend it up to a consistency a bit smaller than rice grains.  What you get is something that is healthy, freezes well and can be used to bulk up savoury dishes either in place of flour or (say) to replace rice/pasta when serving dishes up.
I did a bit of experimenting based off regular savoury muffin recipes and ended up with this – it's pretty foolproof and flexible.  End results are pretty healthy, freeze well and delicious – bag up in pairs in freezer bags and you've snacks for the week for hungry progeny.
Ingredients
As written this will make about a dozen normal sized friands.
350g Cauliflower rice (A normal cauliflower will give you about three batches of 350g.  Freeze up the other two batches for later use)
½ cup frozen peas (Allow to thaw while you prep)
½ cup rice or regular milk
3 eggs lightly beaten
1½ cups of grated cheese
1 cup diced cherry tomatoes
½ cup of rice flakes (optional)
95g tin of tuna
Method
Heat oven to 200C, bit lower if fan forced
Gently combine ingredients – usually makes sense to start with the cauliflower rice and go from there.  You want gluggy rather than runny consistency ideally and don't wanna smush the tomatoes so combine gently
Grease the friand tray(s) with canola oil
Spoon mixture into tray – want each one to be almost level with top of mould
Optionally sprinkle a little parmesan cheese on the top of each
Bake for about 35 minutes or until nicely browned
Remove from oven, then allow to sit for a few minutes before putting onto a cooling rack
Enjoy!